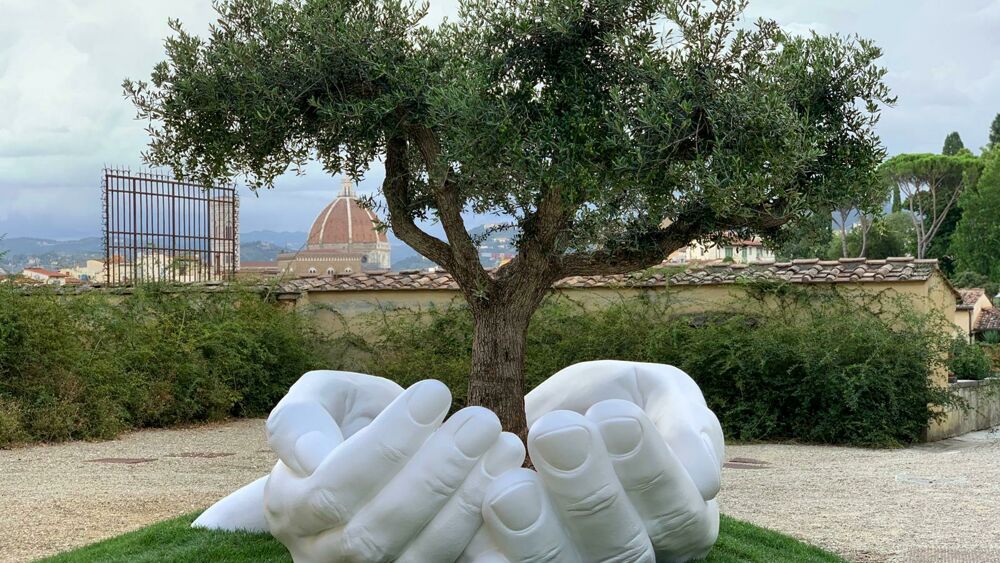 Per un mese sarà esposta in anteprima nel Giardino di Boboli 'Give' di Lorenzo Quinn (Roma, 1966), l'ultima creazione dello scultore noto per le sue grandi installazioni di mani.
Si tratta di un dono dell'artista e della sua galleria alla città di Pietrasanta, dove a settembre sarà installato nel Parco Internazionale di Scultura e dove farà parte di un progetto Onu contro il cambiamento climatico.
Quinn, conosciuto al grande pubblico per le mani installate in Canal Grande a Venezia nel 2017 durante la Biennale dell'Arte, torna ad esplorare i significati del suo soggetto preferito.
La nuova opera, esposta con il contributo della Fondazione Ginevra Olivetti Rason, simboleggia il senso del donare senza ricevere.
Secondo l'artista l'ispirazione è maturata dal rapporto tra l'umanità, il mondo e in particolare la natura che ha sempre dato e continua a dare senza pretendere niente in cambio.
Lorenzo Quinn ha realizzato la scultura in resina e materiale riciclato, in modo da trasmettere un messaggio basato sulla sostenibilità ambientale. La mano di un uomo si unisce a quella di una donna per sottolineare il valore del dare. L'opera è portatore di un messaggio di pace rivolto all'umanità e simboleggiato da una pianta di ulivo.
Our editorial staff includes people with different professional backgrounds who share a
passion for writing and who want to create and develop a dialogue with their readers and
with the world.